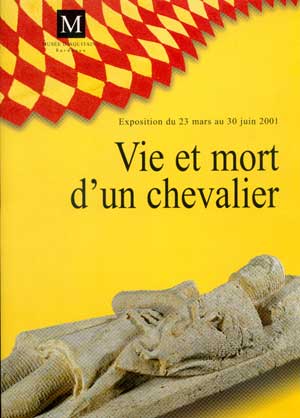 Diverses activités (expos) / exhibitions
De Juin à Aout 2000, je travallais à la préparation de l'exposition Vie et mort d'un chevalier qui eut lieu au printemps 2001 au Musée d'Aquitaine. Ce stage m'offrit l'occasion de mener quelques recherches sur l'art poétique des troubadours, l'amour courtois et l'héraldique (ainsi que sur l'armement des chevaliers). Ce fut aussi une expérience de travail d'équipe très enthousiasmante, autour de la redécouverte d'un gisant à Sadirac, de la réorganisation de la section médiévale du musée et de l'animation d'une exposition temporaire (iconographie, scénographie, etc.), sous la direction de Mme Annick Bergeon.
In the summer of 2000, I was working (as intern in the Museum of History of Bordeaux) on the preparation of an exhibition about chivalry around the 12th century (which took place in spring 2001). This gave me an opportunity to explore the poetry of provençal troubadours, fin'amors and other aspects of the local culture of chivalry. The internship also offered an exciting team experience around the desire to bring back to life this medieval atmoshpere in a colorful temporary exhibition.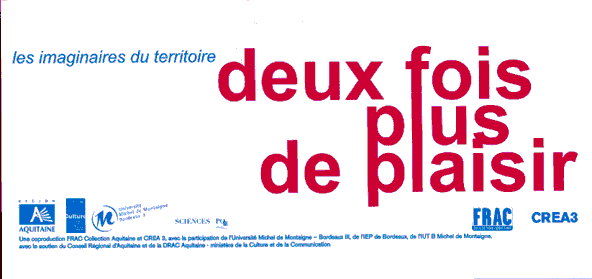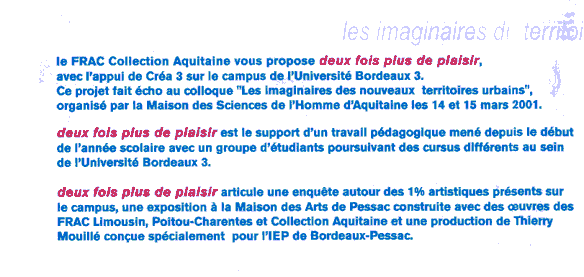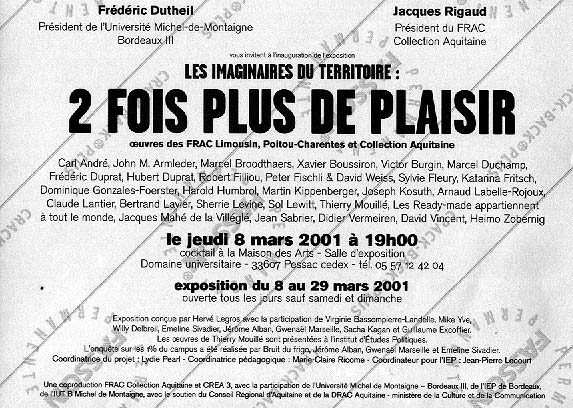 De Novembre 2000 à Mars 2001, un groupe d'étudiants a organisé avec le Directeur du FRAC Aquitaine une exposition d'art contemporain sur le campus universitaire de Bordeaux. J'étais en particulier responsable de l'intervention de Thierry Mouillé à l'IEP, une oeuvre appréciée par de nombreux visiteurs dont Pierre Bourdieu en personne.
Vous pouvez télécharger l'article sur cette exposition paru dans le magazine du FRAC Aquitaine: Cliquez ici...
From november 2000 to March 2001, a group of students organized, together with the Director of the Regional Contemporary Art Fund (FRAC) of Aquitaine (Bordeaux, France), an exhibition of contemporary visual art on the University campus of Bordeaux. I was especially responsible for the intervention of the young French artist Thierry Mouillé in Sciences Po (the Institute for Political Sciences). This installation was appreciated by many visitors, including the famous French sociologist Pierre Bourdieu.
You can download an article (in French) on this exhibition, published in the magazine of the FRAC: Click here...
Apart from these two exhibitions described on this webpage, I'd like to mention the Rencontres Photographiques en Sud Gironde, a festival of contemporary photography for which I was press attaché in 2000, and the conference of the great painter Paul Rebeyrolle which we organized (around JP Lecourt) In Sciences Po in January 2001 (being also able to exhibit one work of Rebeyrolle in the University thanks to the FRAC).
Outre ces deux expositions mentionnées dans la présente page web, je voudrais mentionner les Rencontres Photographiques en Sud Gironde pour lesquelles j'étais attaché de presse de l'ARPA en 2000; ainsi que le Grand Oral du peintre Paul Rebeyrolle organisé sous la direction de JP Lecourt à l'IEP de Bordeaux en Janvier 2001 (événement à l'occasion duquel nous avons pu exposer une oeuvre de Rebeyrolle grâce à un prêt du FRAC Aquitaine).